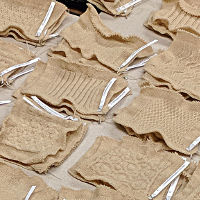 Knit Swatches
(2016 - present)
One of the main challenges facing those trying to create a predictive knit simulator is the lack of ground truth data.
As part of our KnitPick project, we have machine-knit, measured, and photographed a collection of approximately 300 swatches drawn from the book The Essential Stitch Collection and the web page Stitch Maps.
In addition to this raw measurement data and knitting instructions (in .knitout format), we have developed a translator which can produce a stitch-level description of the swatch (in .smobj format), and the yarn paths for each swatch (in .yarns format).
A paper describing these translators will be forthcoming, but work-in-progress versions of the code and the file format descriptions are already available.
Links
Related Publications